Hey, I'll be the first to admit that the setup of this album was way beyond wacky. Chris Gaines was a fictional character that country star Garth Brooks was to play in a film called "The Lamb". The character of Gaines was born in America to Australian parents, formed a band called Crush out of high school. As soon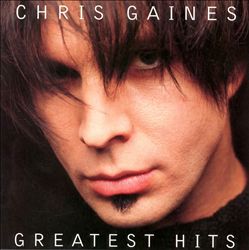 as Crush becomes big, one of the members dies in a plane crash. After a period of seclusion, Gaines re-emerges as a pop superstar, scoring huge #1 albums and winning Grammys. At some point, Gaines gets into a horrific car accident and has to undergo extensive plastic surgery, after which he unveils a new, soul-influenced sound and picks up right where he left off in terms of success. This album was supposed to serve as a "pre-soundtrack" to the album, a collection of Gaines' greatest hits. If you have finished reading all of this and you still have a straight face, you're a better person than I.
Another school of thought is that this was an elaborate scheme cooked up by Brooks and his people to give the biggest country star in the world (and for those who can't remember, Garth Brooks has sold more records than any solo artist in history, according to the RIAA) to jump into the pop/rock arena like a Shania Twain without sacrificing his country audience. Whatever reason this character was cooked up for, the fact is that "The Lamb" never got made, and Brooks suffered the first "flop" of his career with this album (although it's still certified double platinum). Copies of this album line cutout bins nationwide. However, I'm here to tell you: it's nowhere near as bad as the silly movie premise and the so-so sales would have you believe.
I'm not sure if this was done on purpose or out of naivete on Brooks' part, but for such an edgy looking and acting "rocker", the music on this "soundtrack" is middle of the road adult contemporary pop with no edge at all. Not that there's anything wrong with it-there are plenty of folks who do adult contemporary quite well! First single "Lost in You" is a soulful acoustic ballad-if it reminds you of Eric Clapton's "Change the World", it's because songwriter Tommy Sims had a hand in both songs. It also highlights Brooks' uncanny vocal resemblance to Kenny Loggins. "It Don't Matter to the Sun" is an emotional country-tinged ballad. "Driftin' Away", the album's best track, could have easily been covered by a Brian McKnight or Babyface type and turned into a huge R&B hit-I imagine that the reason Brooks sang the living shit out of this song is that he could relate to the disintegrating relationship-themed lyrics. The wistful "Maybe" has more than a hint of Beatles influence and features Brooks singing in a pretty falsetto. I mean, most of the mid- or down-tempo songs on this album are honestly pretty damn good.
Granted, there are a couple of embarrassments to be found here. "Unsigned Letter" is a bald-faced rewrite of The Wallflowers' "One Headlight" that's beyond obvious, and songs like "Way of the Girl" and "Snow in July" are inoffensive pieces of pop/rock that are so lightweight you forget about them as soon as the songs go off. Then there's "Right Now", which finds Brooks/Gaines speak-rapping about a litany of political and social issues and then jumping into The Youngbloods' classic "Get Together" for the chorus. While "Lost in You" became a Top 5 hit (Garth's only Top 20 hit on the pop singles chart EVER), "Right Now" was the project-killer. Radio and video had absolutely no idea what to do with the song, which is a shame, because while it's certainly strange (and it's strangeness is due less to the song and more to the person singing it), it's not a bad record.
There was very little contemporary about this album, and I honestly think that the major disconnect was Gaines' wild-haired, mysterious "image" not really making sense after you hear the album and realize that it's just a slightly more pop-oriented (well, more like adult-contemporary oriented) Garth Brooks album. This was actually the first album of Garth's that I ever owned, and I enjoyed it enough that I went back and bought a handful of his country albums. I've gotta admit, I still like this one better! Had Garth tossed aside the fictional character and the backstory, I don't know that the backlash would have been as severe. But I guess we'll never know…