Artist: Aesop Rock
Album: Skelethon
I'll mostly discuss Aesop Rock's Skelethon as a vehicle for Ian Bavitz's writing. At his best, as a lyricist, he's operating on a level no one else is attempting, and I would want to have heard this album even in a musical form (bluegrass? reggae?) I find off-putting. But instrumentally, here's who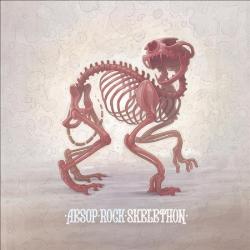 it reminds me of: Wire (once they got into electronics). Nine Inch Nails. Massive Attack / Tricky. This is dark, synthetic music: built of drones, tremolos, nagging unidentified tones, and beats that are both strong and, often, disorienting. These elements are layered, they evolve, they drop out and leave dramatic space; perhaps like a serious-minded Oingo Boingo teaming up with Rage Against the Machine. No, scratch that last one, only brought to mind by the marimbas and horns of Fryerstarter: Skelethon isn't like a serious-minded Oingo Boingo teaming up with Rage Against the Machine. I'm just asking the universe to make that album happen too. Well, as long as they find a much better rapper than Zack de la Rocha.
Ian (Aesop Rock) Bavitz is a much better rapper than Zack de la Rocha: articulate, firm, too speedy and agile for his own good, but half the time able despite that to be a talented character actor delivering his lines. Yes, Aesop Rock makes hip-hop, of the smart outsider variety, in a peer group with El-P, Sage Francis, Mr. Lif, Saul Williams, and Subtle. If you're familiar with him, I can say that the good-natured hippie oddness in the arrangements of Float and Labor Days ('99-01) is long gone, and that the deliberately off-putting weirdness of Bazooka Tooth has been streamlined and professionalized: Skelethon is his hardest-hitting record by far, although it still sounds like him. I think it works: strong by itself, but putting the words front and center where they deserve to be. On my 2012 Tris McCall Critics' Poll ballot, I nominated ZZZ Top as Single of the Year — even though it's probably my 3rd-favorite song on here.
I'll start discussion of Skelethon's lyrics with a typical song from it, say Fryerstarter, the lyrics of which could be summarized in plain English as "There's a place I like to go to at 1 a.m. that has amazing donuts. Not many people know about it. Those of us who do know it feel a sense of belonging together, even if we have nothing else in common. It's nifty". That's an excellent premise for a song; I haven't run into it before. For better or worse, here's how part of it scans when Bavitz writes it:
"Picture if you will a weak night in the trenches/ where paranoia dead-ends in a bright fluorescent heaven/ with sprinkles. I know, right? Yum./ Whether tummy ache or fever/ Keep the funnel cake, I'm honey-glazed in vitro/ In the company of similar believers/ sleepless, who hear the walls breathe and foam at the facial features./ Now the yeast, a phoenix in the partially hydrogenated/ equal parts flour, faith, healing/ might replace your previously nominated Jesus/ but only if you're privy to the following of secrets./ Shh! Every night at 12, they would march out from the back/ with a tray of raw dough for the pool of hot fat./ Show up around 1, never get your God back./ If you're just tuning in? Walk into the light. Walk into the light".
I think that's beautiful. Ridiculous and overblown, yes. But it's driven by a love that leads to close observation, then loses track of which observations are objective detail, which are free associations from that detail, and which are holy revelation. Racing Stripes salutes a youth's maturation from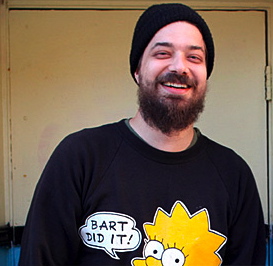 having hair cut at home by his parents — I shall now perceive all bowl cuts as "Mega Mom scissoring a topiary Lego Man" — to trying out any of a number of mentioned rebel cuts ("What emerge next in a shaft of light/ is bald on top, long on the back and sides/… He says 'How do I look?', I say 'You look insane'/ He says 'The haircut comes with a theory I'll explain'"). ZZZ Top applies the same supportive detail to three different young graffiti artists, the first being: "Somebody in a cultivated moment of distress/ Composed himself enough to artfully carve ZOSO [one name for Led Zep's 4th album] on his desk/ They was probably thinking 'Fuck you, fuck you, fuck you' in their head./ With a hell-bound arm and an acidy wash/ Homemade curfew? A thousand o'clock/… Watch: Capital Zed, slowly maneuver the O/ the S is most difficult to control/ Finally O, into the eye of Goliath you go/ That levee-crushing percussion pull a monkey upright/ Twelve or ghetto blaster/ black or Technicolor Telecaster/… It would appear that you spelled out all the answers". Bavitz could, if he'd lacked musical skill of his own, have been a record reviewer like Lester Bangs at his most effusive. I don't normally care for Bangs's taste in music; donuts rank low on my junk-food totem; graffiti's usually ugly; and weird hair I only enjoy on people who are not me. But there's pleasure in half-wishing to try something unlikely out, just because it's made someone else so happy.
There's a few weaker songs here: songs so gnarled in allusions that they take entire online communities to unravel, songs whose lesser hooks remind me this is a 17-song album with very little singing. That's only why Skelethon isn't my #1 of the year, though. And despite my above paragraph, my absolute favorite songs here are dark, dark, dark.
Crows 1, featuring the normally cutesy folk singer Kimya Dawson in a frightening flattened-affect sing-song, is an angry mourning song for Bavitz's friend Camu Tao; the song's 2nd-best melodic hook is a pitch-shifted series of Bavitz howling "Noooo!". Crows are eaters of the dead, and smart creatures with strong memories who "Stick together forever, and they always remember you and all the shit that you do". Little of the fury is directed at the early death itself, because that's too hard; it's diverted to the rituals, like burial, and the feeble attempts by friends to comfort. "Gate of God's green acre/ Aim to rake the snow off each forsaken name here./ Supposedly closure'll free the vipers out of the bosom./ Personally, I think that's a bunch of bullshit…/ The tech support for tragedy's emphatically horrendous:/ teenage operators explaining what bated breath is". He and Kimya counter-endorse the scattering of ashes to the wind, instead of the cruel "taxidermy" of imprisoning the body for repeated use (though he admits this much credit to the graveyard: "Either way: dope stone lion"). True, the whole rant is a diversion from greater pain. But coping with horror via tiny truths instead of big white lies is as valid a strategy as any.
Then at the album's end, the only place for it, there's Gopher Guts. The last couple Aesop Rock cd's didn't come with printed lyrics or (at the time) easily searchable ones, so I was going to skip this record till my friend Grace posted Gopher Guts on Facebook with lyrics attached. Starting as a post-romantic-breakup song — "Suicide Lane, wide-load looting/ in the wake of an amicable marooning/ My duty go from moving in packs, to sharing food with a cat/ To Mom, 'It's me, I accidentally sawed a woman in half'" — it drives at speed limit into big truths — "Apparently we share a common plasma, so the growing disconnection doesn't matter…/ Who wrote the blood-and-water chapter anyway?/ Probably some surly dad, only child, 30 cats/ Looking to re-connect to an averted past/ Except it doesn't always work like that" — and crashes on through. The final verse of Gopher Guts — which I won't quote while I'm trying to get you to say hello to the man — is among the most plain-spoken and precise and damning self-indictments I've ever read. Perhaps I believe it; *he* believes it. Perhaps public diagnosis is step one towards a cure, or perhaps steps two and three and four turn out to be fatally harder.
But "Today I pulled three baby snakes out of moss and dirt/ where the wild strawberry vines toss and turn./ I told them 'You will grow to be something inventive and electric/ You are healthy, you are special, you are present'/ Then I let them go". Do magical benedictions to non-English-speaking creatures fix anything? Logically, I guess not. But no one learns to deal better with others by logic alone. And if the blessing won't work, maybe telling us afterward will.
– Brian Block
To see the rest of our favorites, visit our Favorite Albums of 2012 page!