Artist: Adam Ant
Album: Adam Ant is the BlueBlack Hussar Marrying the Gunner's Daughter
Adam Ant (born Stuart Goddard) was already a weirdo in his rock star days, circa 1980. A young glam-rocker, playful and flashy and sly, he was allowed to emerge after the decline of what should have been his subculture, because he used enough prominent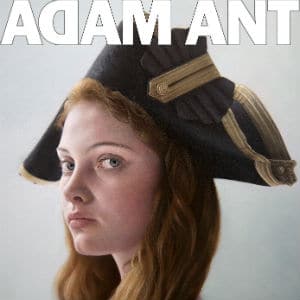 African drumbeats, and a twerpy enough singing voice, to sound New Wave. Within a few years, though, he was softening his sound and pushing his synthesizers forward, and while he kept recording hits for awhile, he lost the interest of critics (and of me). In 1995 he released a more acoustic-based soft rock album, Wonderful, the title track of which was just enough of a hit for me to process it as awful. Then he stopped issuing new music.
Until, in 2013, he re-emerged with a fair candidate for the best, most interesting album of his career. Which, as far as I'm concerned, is what Orchestral Maneouvres in the Dark did in 2010, the Dead Milkmen did in 2011, and the Fixx did in 2012, so maybe there's something to be said for relaxing, living life, and storing up your comeback at a rate of one new song per year.
Adam Ant is the BlueBlack Hussar Marrying the Gunner's Daughter is flash and excess as a title — Hussars were Hungarian cavalry noted far more for elegant aristocratic clothing than for actual fighting skill — and the 17-song album fits, but not in an in-your-face way. His guitarists (Boz Boorer and Chris McCormack) provide plenty of rock energy, in styles ranging from spaghetti-western (Cool Zombie) to '50s rock'n'roll (Vince Taylor) to Smiths impressions (Dirty Beast) to swirling shoegaze feedback layers (Stay in the Game) to Rage Against the Machine stomp (Hardmentoughblokes). But his voice has grown casually conversational, tossing its highly expressive flow in the direction of notes but never glancing over to see where they land. The drums are usually prominent, as in his prime, but more often country-rock, marching-band, or even proto-industrial (Shrink) rather than sub-Saharan tribe.
His musical softer side is present, but strange. The languid country-ish lament Valentines is beset by bizarre vocal harmonies: some low and droning, some in bird-chirp falsetto. Darlin' Boy doesn't have a single non-weird element: not Ant's exaggerated articulation and long gliding syllables, not the very stubborn quarter-note percussion tapping, not the half-barked half-yapped vocal harmonies, not the near-subliminal guitar squall bending notes in peculiar sequence. Punkyoungirl's guitars swirl like Ocean Rain-era Echo and the Bunnymen or Disintegration-era Cure, picking up dark grunge-inflected bass riffs, but it's a cheerful song paced by a perky drum machine. The synthesizer notes of Cradle Your Hatred wobble in and out of focus like passing aircraft, and actually you should just *assume* every song here has its own weird-ass vocal arrangements.
Lyrically, Marrying the Gunner's Daughter feels personal, which isn't to say confessional.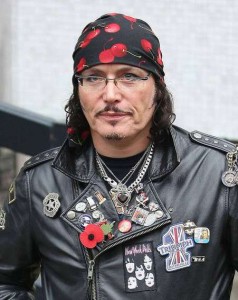 Cockiness is a thing Ant does, hence him naming himself after the glamorous hero of a TV action show (Adam Adamant Lives!, created by Doctor Who's great producer Verity Lambert). Cradle Your Hatred is an apology edged into a fierce attack on the fact that you're still mad. Hardmentoughblokes is a complaint about bullies ("McQueen, Tim Roth, Vinnie Jones, you can all fuck off ", intriguingly linked to the claim "They are the one percenters", and we do know Occupy Wall Street was defeated by paid, organized violence as much as anything else)… but he slips into the role of the tough guy himself before it ends.
The claim "I nearly done a Vince Taylor", name-checking the '60s rocker, probably means "I nearly destroyed my life with drugs and alcohol", and maybe "I came close to where I could've only saved myself by joining a religious cult", but it's kept vague. Marrying the Gunner's Daughter is about having been a "frightened boy" who "wanted death", and portrays how the pressures of fame made it hard to properly enjoy, but can't help being pleased that "They sentenced him to life: Anarchy and girls' bodies, epiphany for life (nice dream)". Punkyoungirl appreciates youth, in a gross way: "Punky young girl needs a middle-aged man/ whose midlife crisis you began/ Punky young girl, such a work of art/ licensing each body part/ Ooh, don't wanna go yet/ Lift up your skirt, let me lick the alphabet". Like Bullshit (which is middle-aged, cynical, and cranky), it doesn't suggest a man in search of *ideas* from the young.
But Adam Ant is getting new ideas from somewhere, and delivering them with panache, along with a varied and expert assortment of old ideas he'd once seemed to forget. There's supposed to be swagger in Mr. Goddard's performance, after all. Being old can be about reflection. But it can also be about knowing what you're good at, and taking a relaxed pleasure in showing it off.
– Brian Block
To see the rest of our favorites, visit our Favorite Albums of 2013 page!