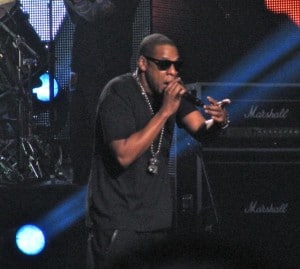 Well, it's another year of blogging the Grammys. Luckily, I don't think I'll need much more than one or two cups of coffee. I'm pretty awake this time. And I hope to see my favorite track from the time period, Empire State Of Mind win some awards tonight.
There is no host for this year's show. I was hoping that they'd bring Arsenio Hall back to reprise his MTV Music Video Awards hosting gig. Sadly, that's not happening.
Looks like it's Aretha Franklin Appreciation night. I wonder if someone drives up in a Pink Cadillac?
(I'll be cherry picking my favorite Grammy tweets of the night and adding them.)
8:04PM – Christina Aguilera, fresh off a National Anthem disaster with definite mother's milk boobs going on, decides to wail alongside Jennifer Hudson and Martina McBride on Natural Woman. I think Florence Henderson is up there too. Wait, that's the girl from Florence And The Machine. My bad. Hey, I think Yoli Adams is up there too.
8:20PM – All five girls are back on stage to give out the best Pop/Duo/Group Grammy. Yoli Adams is Manute Bol to Christina Aguilera's Mugsy Bogues. Train won with Hey, Soul Sister, if anyone cared.
MissLove32
Rihanna looks like she's wearing christmas wreathes as a dress.
8:23PM – Lady Gaga is out performing her new song, Born This Way. It sounds so much like a Madonna song that Alex Rodriguez nearly jumped on stage mesmerized.
gidget
Now I have Hey, Soul Sister stuck in my head. DAMN YOU, GRAMMYS.
8:34PM – Miranda Lambert looks like Paris Hilton if someone fed Paris Hilton.
8:51PM – Hmm, I think Bruno Mars may have forgotten to put gel in his hair.
8:53PM – Janelle Monae's hair looks like an afro-puff diving board. She kinda tore it up though.
9:09PM – Justin Bieber is transitioning into Joey McIntyre right in front of our eyes. My eyes are tearing up.
9:10PM – To counter Justin Bieber and Jaden Smith, Will Smith and Jazzy Jeff should've joined them and showed them a thing or two.
9:11PM – If you're Usher, do you just piggyback on Justin Bieber for the rest of your career? Just go back to Chili, find out what she wants, and let Bieber rake in the money for you homie.
knbrmurph
Big ups to the rapper B.o.B. for rocking the monocle at the #Grammys. But Mr. Peanut called. He wants his look back.
9:22PM – Jealous of Beyonce and Nicki Minaj for their bodacious badonkadonks, Lady Gaga is wearing external butt pads. Doesn't work like that home girl. You weren't born that way.
WhitneyCummings
Does Donnie wahlberg know he's not blind?
9:31PM – I wonder how many times Bob Dylan tries to clear his throat before he's just like, "Argh! Forget it!"
9:32PM – If I were Jakob Dylan, I'd change my name to Jaden and hope my dad put me in a song or something.
liss98
I can't believe Kate Hudson let that dude from Muse touch her, much less knock her up. Eeek. Then again, Chris R. was skeevy, too.
9:45PM – I think the Jersey Shore crew should cover Lady Antebellum's Need You Now and rename it, D.T.F.
girlwonderful
Oh, I just saw Cee-Lo, y'all didn't tell him he dressed up as the NBC logo.
9:49PM – If Gwyneth Paltrow had boobs, I'd be turned on by her outfit right now. But at least she can sing a little bit.
steveaustinBSR
is koko b. ware at the grammeys?
10:05PM – I'm pretty certain that John Mayer has a bet with his friends that he can look as scraggly and unkempt as possible and still pull chicks.
10:15PM – Hey, it's the claymation version of Eminem. Wait, that might be the real Eminem.
10:19PM – Dr. Dre's going to need a doctor to bring him back to life unless he gets off them steroids.
10:40PM – Who knew that one of the oldest cats on stage would give the liveliest performance. If I was wearing a cap, I'd tip it to you Mick Jagger. Instead, I'll tip Janelle Monae's afro-bangs.
10:50PM – True story – my mom's go-to song in karaoke was Barbra Streisand's Evergreen. But it was before there was karaoke.
10:53PM – Eminem needs to give his Grammy to Questlove, or at least buy my man a platinum afro pick.
MissRiza
Turned to the Grammy's just in time to see Nicki Minaj's outfit…good to know I didn't miss much! #hotmess
11:04PM – Lady Antebellum beat out Jay-Z and Alicia Keys for Record Of The Year and I haven't been this angry since Huey Lewis And The News got jobbed out in 1986 by We Are The World.
11:22PM – I think I saw Eminem with a sign that said, "If Lady Antebellum wins, we riot!"
11:23PM – And the winner of the biggest award, Album Of The Year goes to Arcade Fire. Where's ODB when we need him? Wu-Tang is for the children!