William D. Drake, a somewhat less-famous cousin of songwriter Nick Drake, is a keyboardist best known for his decade with the "pronk" ("punk" plus "progressive" plus "we like silly words like pronk") band the Cardiacs, whose songs had no problem being fast, complicated, fierce,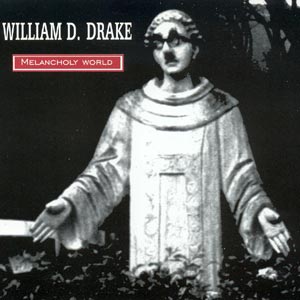 and twee all at the same time. When band leader Tim Smith showed an interest in playing folkier, gentler songs as well, he and his cellist wife and Drake teamed up to form the Sea Nymphs, who recorded three albums in a fifteen-year period.
Drake's first work as a bandleader, according to Wikipedia, was with something called Lake of Puppies, who didn't record anything. His bandmates later formed the chamber-folk-pop band North Sea Radio Orchestra, whose I a Moon comes with a free endorsement from Pop Rock Nation's Brian Block; they've played a couple of Drake's compositions.
Meanwhile William D. Drake started releasing albums under his own name, as influenced by madrigals and Dmitri Shostakovich as by New Wave pop music. Wolves, from his second album Briny Hooves, has a very charming stop-motion music video.
William D. Drake Reviews on Pop Rock Nation