They Might Be Giants were founded in 1983 in New York City as an avant-garde duo of John Linnell and John Flansburgh, focused as much on creepy stage and puppet-show spectacle as on music. Promoting themselves with their Dial-a-Song phone line, they soon realized their thrown-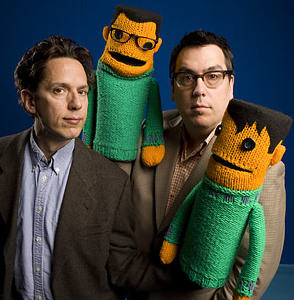 together songs would work better over phone lines with as little bass and distortion as possible, which helped guide their style towards short, melodic songs built on samples, brass, accordion, tinny drum machine, and their nasal singing voices. Their 1986 self-titled debut album — 20 songs in under 40 minutes, the third of which insisted "There's only two songs in me, and I just wrote the third" — was released on indie Bar/None Records in New Jersey, and probably would have had sadly little impact. However, they were lucky enough to capture the interest of brilliant young film director Adam Bernstein, who ultimately directed seven busy, funny, eye-catching videos for the band, and MTV put his vids for Don't Let's Start and Put Your Hand Inside the Puppet Head into regular rotation. Their 1988 album Lincoln, still aided by Weinstein, saw them with an even bigger hit in Ana Ng, and they sold over 700,000 copies, a record at the time for an indie-label release.
Signed to major label Elektra for 1990's Flood, they sold platinum with their biggest hit yet, Birdhouse in Your Soul. They then became a full-time 5-piece rock band, with unknown commercial effect; what we do know is that their primary backer at Elektra was fired, their promotion budget was slashed, and their sales declined steadily for Apollo 18, John Henry, and Factory Showroom, at the end of which their contract was terminated.
At that point, They Might Be Giants took firm control of self-promotion. Having inspired a generation of teenage nerds who had grown up to get jobs doing music placement for TV shows and movies, they started to win commissions to place songs on Malcolm in the Middle, Courage the Cowardly Dog, Dexter's Library, Austin Powers: the Spy Who Shagged Me, and many other films and programs. They released an exclusive MP3-only odds-and-sods album, Long Tall Weekend, on EMusic in 1999, before returning for their first proper new studio album in five years, Mink Car, on the indie Restless Records in 2001.
In 2002 they released their first children's album, No!, following it up with three more whimsical children's albums of various quasi-educational purposes: Here Come the ABCs!, Here Come the 1-2-3s!, and Here Comes Science!, each of which sold better than any of their albums for grownups had since Flood. They also have released four more albums for grown-ups, as of 2013's Nanobots.
They Might Be Giants reviews on Pop Rock Nation