Ford Pier, born 1970, has a name meaning "to cross, by wading, a disappointed bridge". His professional music career started when he joined Canadian hardcore punk band D.O.A. (considered co-founders, with Black Flag, of their genre) as a guitarist and vocalist in 1993, after their ninth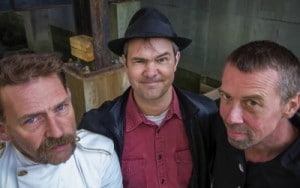 album Loggerheads. He then helped form the pranksterish punk/ doo-wop/ rock'n'roll band the Showbusiness Giants. And he recorded, in 1995, his punk/ country/ folk/ soul solo debut Meconium, named after the especially gross form of poop issued by newborn babies, which tells you something about his self-image and sense of humor.
Soon afterward, Pier started working with the great singer-songwriter Veda Hille doing neo-classical orchestration. His next album, 1999's 12-Step-Plan 11-Step Pier, was a much louder and more abrasive album, but also more densely and creatively arranged, with bassoons and such, which he considers a consequence of his work with Hille. In 2000, long before this practice would become at all normal, he released a free Internet-download album, Besides, which you may find at http://fnordpier.com/besides1.html (it's not at all his best work, but it's good and might make a useful entrypoint for someone who wanted to make sure they didn't hate him before spending money). Late in 2004, he released his most ambitious album Pier-ic Victory, produced by long-time Rheostatics producer Michael Philip Wojewoda; then Pier, along with singer-songwriter Selina Martin, joined the final incarnation of the Rheostatics touring band, which remains the only time Pier has made a living playing former Canadian chart hits, albeit admirably strange chart hits.
Since then, Pier has spent more time composing chamber music, but his albums – 2007 EP Organ Farming, and 2010/2013 LPs Adventurism and Huzzah!!!, have been simpler, more aggressive, and more rock-oriented. The latter two have been attributed to the Ford Pier Vengeance Trio.
– Brian Block
Ford Pier Reviews on Pop Rock Nation