Extra Life are an intense, dramatic rock band led by Brooklyn-area musician Charlie Looker, a guitarist/ pianist/ flautist whose best-known side gigs have all been part of the avant-garde scene, playing with the art-pop band Dirty Projectors, the noise-jazzers John Zorn and Glenn Branca, and the "brutal chamber music" group Zs. He makes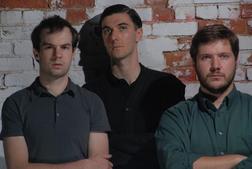 his living as a music teacher, working primarily with elementary school kids.
Extra Life's first two albums, Secular Works (2008) and Made Flesh (2010), consisted of songs tightly composed, almost note-by-note, by Looker, who has a background in mediaeval composition.  Their third album Dream Seeds (2012) unexpectedly embraced a looser jam-session mode of creation, with drummer Nick Podgurski and cellist Caley Monahon-Ward emerging as co-arrangers, with Looker learning to regard himself as more purely a songwriter, reaching towards his "inner Morrissey".
Made Flesh was voted Best Album of 2010 by Pop Rock Nation reviewer Brian Block, Quietus reviewer Noel Gardner, and, we hope, maybe someone else somewhere who heard about and bought the record. That would be nifty.
Extra Life Reviews on Pop Rock Nation