The Dresden Dolls were the Boston-based piano/drums duo of Amanda Palmer and Brian Viglione, formed in the year 2000 after they met at a Halloween party where Palmer was performing. Very theatrical, with a fondness for Weimar German cabaret culture (a la the movie Cabaret), they released the live album A is for Accident early in their careers (it is now largely forgotten, a fact which is basically fair). Raising a small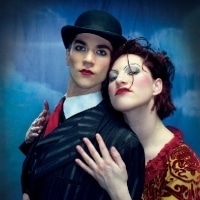 amount of money from concerts and a larger amount from Palmer's career as a stripper, they funded a proper studio album (the Dresden Dolls) in 2003, then won Boston's annual battle-of-the-bands, the WCBN Rock & Roll Rumble, which caused a significantly larger number of Bostonians to know they existed. They then had two local hit singles from the album ("Coin-Operated Boy" and "Girl Anachronism") in 2004, toured with Nine Inch Nails in 2005, and were able to promote 2006 album Yes, Virginia at Bonnaroo, Lollapalooza, South by Southwest, and the Leeds Festival.
They released a B-sides/miscellania album, No, Virginia, in 2008, then broke up their artistic partnership during a lengthy failed attempt to co-produce and co-direct a play together. Viglione, as of 2012, is a Boston-area touring and studio drummer, and teaches drumming workshops. Palmer is now known as Amanda Fucking Palmer, released a debut solo album in 2008 produced and co-arranged by Ben Folds, married Neil Gaiman in 2010, and raised a record $1,200,000 on Kickstarter for her second proper studio album in 2012.
Dresden Dolls reviews on Pop Rock Nation