Andrew Lloyd Webber, an English guy born 1948 to a musical family, grew up with a Gidget-style habit of writing and putting on musicals in what Wikipedia calls his "toy theatre". Then he went to the Royal College of Music, made friends with Tim Rice, and wrote a real published musical; then he made Joseph and the Amazing Technicolor Dreamcoat from what began as a cute 15-minute project for an elite prep school and got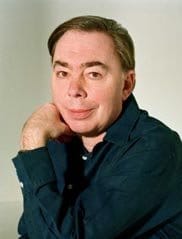 famous. Then he and Rice wrote Jesus Christ Superstar and got *really* famous. Later career successes included Evita (still with Tim Rice), Starlight Express and Phantom of the Opera (not with Tim Rice), and Cats (with the late T.S. Eliot).
Roger Waters's song "It's a Miracle" – a celebration of worldwide capitalism that's much more detailed, specific, and interesting than his Pink Floyd song "Money", and probably about as sincere as you'd expect – concludes
"By the grace of God Almighty
And pressures of marketplace
The human race has civilized itself
It's a miracle
We cower in our shelters
With our hands over our ears
Lloyd-Webber's awful stuff
Runs for years and years and years
An earthquake hits the theatre
But the operetta lingers
Then the piano lids comes down
And break his fucking fingers
It's a miracle".
Mr. Waters has not currently been invited to review Lloyd Webber musicals for Pop Rock Nation.
Andrew Lloyd Webber reviews on Pop Rock Nation
Cats: Original Broadway Cast Recording