Alanis Morissette was quasi-famous from an early age, starring on the '80's Nickelodeon comedy-for-kids show You Can't Do That on Television. "Starring" is a label sometimes applied later, after she turned out famous; no one at the time would have guessed that she, not Christine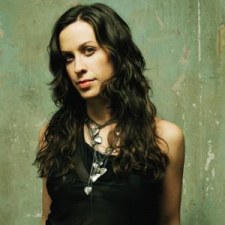 "Moose" McGlade or Lisa Ruddy or Kevin Kubusheskie, would have a notable entertainment career. But her singing voice turned out to be impressive, and in 1991, when she was 16 and had hair exactly as unfortunate as every girl her age did at the time, she co-wrote and released a self-titled dance-pop album under the first name Alanis, which Time magazine noted for its "modest renown … among people who don't read lyrics sheets". She doesn't apologize for that album or follow-up Now is the Time, but does shrug them off as the generic work of someone who wasn't ready, at the time, to go public with songs about her actual thoughts or experiences.
When she did feel ready, she made 1995's Jagged Little Pill under her full name, and it sold 33 million records worldwide. She has since made five more albums as Alanis Morissette, which have sold progressively fewer copies, to the point where Pop Rock Nation's album reviewer had heard absolutely nothing about her 2012 release Havoc and Bright Lights until, a coincidental week after its release, he researched this here bio.
Alanis Morissette Reviews on Pop Rock Nation