Artist: Fiona Apple
Album: the Idler Wheel is Wiser than the Driver of the Screw, and Paid Its Mortgage Selling Half This Rhyme to Mountain Dew™ 
Fiona Apple's fourth album is built on
(1) impassioned, bluesy, yet highly articulate singing
(2) Charlie Drayton's inventive, busy percussion (drums and cymbals, but also vibraphone; drumsticks tapping light-switches; moths fluttering into walls while wearing tap-dancing shoes; the wheels of tiny wagons pulled across pebbly trails by nervous midget horses; storage-room shelves collapsing; floors of empty basketball arenas being stomped; distant washed-out recordings of overheating steam-engine boilers. Or so I choose to deduce)
(3) Apple's minor-key piano, often itself highly rhythmic.
My impression from quick attempts to sample her older material is that the Idler Wheel is Wiser is the musically sparest, most percussive, and most direct of her four albums. I'm basically new to her. Her breakout first single Criminal  struck me as slick and bland (it still does), and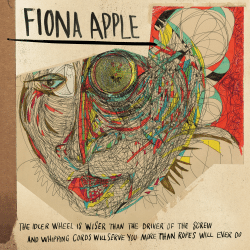 creeped me out with its video, hard-selling the idea that Anorexic Abuse Victim Is The New Sexy. Her insistence that her second album have a 100-word title was intriguing, but I didn't *like* the title, so I tuned her out. I might never have fixed that, had not a negative review of the Idler Wheel is Wiser pointed unhappily to the Left Alone couplet "You made your major overtures when you were a sure and orotund mutt/ and I was still a dewey petal, rather than a moribund slut".
Which is brilliant. Alright, sure, I can see not being struck that way if (as I'm guessing the reviewer didn't) you don't know "orotund" or "moribund", but, y'know… I had to look up the fourth word of "My ills are reticulate, my woes are granular" later in the same song. Before, I didn't know "reticulate" describes complex, diffuse networks; now I do, and the line is damned insightful. What I loved about these lines — about, basically, the prospect of relationship songs by a bluesy female Tom Lehrer — is that there's a natural clash between what I might consider the two most important style elements of good writing: "Say what you're trying to say", and "Make it new". The fancy parts of Left Alone are direct, literal-minded storytelling *and* strikingly original phrases — and high-wire rhymes, to boot. Which doesn't make it one of 2012's greatest songs by itself. Neither does the clattering drum solo. Neither even, quite, does the skewed jazz-punk piano riff, off which her rhythmic scat-singing and Drayton's drum flurries bounce at interesting angles. What finishes elevating it is that once she's finished a tricky rhyme with "cultivate a callus", she advances the idea in the starkest language. "And now I'm hard, too hard to know/ I don't cry when I'm sad, anymore…./ How can I ask anyone to love me, when all I do is beg to be left alone?". The eloquence has been a defense; putting it down is made an act of bravery. Yet she still gives you, in the best part of the chorus melody, the words "calcify" and "coincide" to sing to, because she can, and it's a cool trick, and those words, too, help say what she's trying to say.
Periphery is another with show-off writing: a defiant, funny, willfully juvenile attack on social strivers, where the music — despite impressively spooky backup vocals and bursts of off-kilter intensity — keeps returning to a goofy carousel piano riff. The spare but bouncy Daredevil features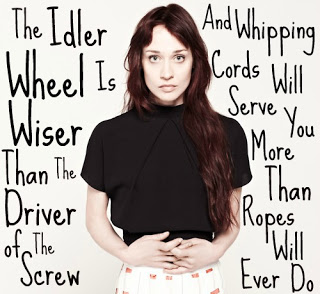 the impressive strength-in-recovery metaphor "Say I'm an airplane, and the gashes I got from my heartbreak/ make the slots and the flaps upon my wing, and I use them to give me a lift". But mostly, she's more reined in: she simply uses her intelligence, intelligently. The pop-jazz ballad Valentine is as precise for "You didn't see my valentine/ I sent it via pantomime" as its continuation "while you were watching someone else./ I stared at you, and cut myself", and uses both to inform "I root for you, I love you". Jonathan, its music as cloudy and ominous as Tori Amos's Precious Things but muted and careful like it's sitting next to you in front of three dozen strangers, attacks her own wordiness: "Kiss me while I calibrate and calculate, and heaven's sake, don't make me explain…/ I don't wanna talk about anything". The singles from this album both make good reading, but turn on the phrases "And then we can do anything we want", and "I just wanna feel everything".
My wife and I have been watching early seasons of Aaron Sorkin's the West Wing recently, our second time with the show. It was mostly a show, abnormally near-realistic by TV standards, about clever, educated, funny, earnest people who care about each other and are trying to improve the world. They were held back by a system designed to be subject to hundreds of competing egos; by their own egos, gigantic enough to fit in; by the many ways the task "improve the world" is ill-defined and unclear to begin with. But they were easy to root for. Now and then, though, it attempted (painfully) to be a romantic comedy about these same people being completely incapable of treating would-be lovers well, because they're too damned uptight to ever openly ask for what they want, or to try to get people to like them by being likable.
Fiona Apple spends the Idler Wheel is Wiser trying hard not to be that person. Maybe that's a new project: see as well her affecting 2012 letter to her fans where she canceled her concert tour to be with her dying dog. Then again, if she's been this direct and vulnerable since her 1997 debut, maybe it hasn't been working for her, or it's only been something she knows how to do when she's writing and singing. It is, either way, a worthy attempt, one I'm glad I finally let myself hear. And when she ends her album with the peppy, Beyonce-ish love/ lust celebration Hot Knife, I choose to hope it's not too late to root for her.
– Brian Block
To see the rest of our favorites, visit our Favorite Albums of 2012 page!